Build Your Career With Engineering Experts
Industrial Ally has over 500 combined years of experience in heavy industrial/construction engineering. Our team approach focuses on collaboration and top-notch project management processes to offer full-service engineering to our clients. We are always looking for talented individuals who are passionate about engineering and are committed to delivering innovative solutions to our clients. Our team is made up of the brightest minds in the industry, and we are committed to creating a collaborative, dynamic, and inclusive work environment where everyone has the opportunity to grow and thrive.
Benefits
Health Insurance
Dental
Vision
Flexible Spending Account
Health Savings Account
Long Term Disability
401(k) Plan with A Generous Company Match
Bonus Plan
Paid Time Off
Nine Paid Holidays
Parental Leave
Employee Gift Match
Culture
At Industrial Ally, we believe that the most successful projects are born out of a collective effort, and we work to foster an intentional environment where every member of the team has the opportunity to contribute their unique skills and expertise. We believe in mutual respect and open communication where all feel valued.
With a team that consists of a range of experience levels and diverse backgrounds, we can offer our clients knowledge gained through real world experience alongside knowledge of the newest developments in engineering. Equally important, we also take time to build strong relationships with our work peers. We start this on day one with our new employee Welcome Lunch and strive to continue to build on this with group outings, individual and group recognition, and other team building activities!
Training
We believe that the best way to learn is by doing, and we are committed to providing our team members with the opportunity to gain real-world experience from day one. Entry-level engineers have the chance to work closely with experienced engineers, learn from their expertise, and contribute to real projects that make a difference for our clients. Those joining our team later on their career path also have the ability to share their knowledge and mentor their more junior counterparts.
Our proprietary training program, Industrial Ally University, was established to invest in, increase, and leverage our team's knowledge of the cement industry. Our focus on hands-on training ensures that you will be able to consistently grow your skills and knowledge and take on new challenges . With our emphasis on experiential learning, you will have the chance to make a meaningful impact in a career that is both rewarding and fulfilling.
Our employees are highly accomplished and involved in various organizations including:
American Society of Mechanical Engineers
American Society of Civil Engineers
American Institute of Steel Construction
American Concrete Institute
Institute of Electrical and Electronics Engineers
Current Openings
If you are looking for a challenging and rewarding career in the heavy industrial engineering field, we invite you to explore our current opportunities and apply today.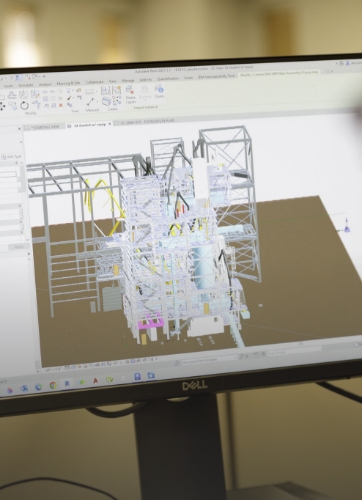 Electrical Engineer III
The Electrical Engineer provides expertise and support in a variety of areas including being a knowledgeable Electrical Engineer, adhering to company, department, and client standards and procedures, and having an advanced understanding of required electrical, instrumentation, and controls design and deliverables development.
Working at Industrial-Ally has helped boost my confidence by making me feel seen and not just another number.

Ashley DuffinIndustrial Ally Employee
I really enjoy working at Industrial Ally. The work environment is focused and intent on providing the best solutions for the client.

John EnslinIndustrial Ally Employee
Industrial Ally helped me grow by exposing me to multi-phased, multi-disciplinary projects, which helps me become a better overall engineer.

Roberto ReynoldsIndustrial Ally Employee
Industrial Ally offers great benefits, flexibility, and team building events, making it a great place to work!

Kaela LouieIndustrial Ally Employee
Growing with Industrial Ally from a team of 11 to 30+ has been an exciting adventure that has afforded me countless opportunities to grow with it.

Nick AlexanderIndustrial Ally Employee